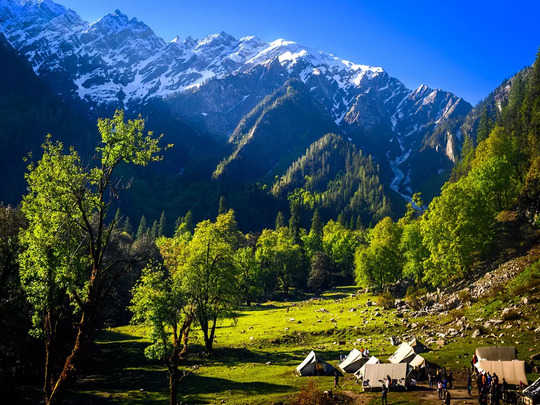 Kanatal is a beautiful hill station located in the Indian state of Uttarakhand, about 78 km from Dehradun. It is situated at an altitude of 8,500 feet above sea level and offers stunning views of the Himalayan range. We know Kanatal for its natural beauty, tranquil environment, and pleasant weather throughout the year. This makes it an ideal destination for nature lovers and adventure enthusiasts.
Some of the popular tourist attractions in Kanatal include:
Surkanda Devi Temple: A popular pilgrimage site dedicated to Goddess Durga, located atop a hill offering panoramic views of the Himalayas.
Tehri Dam:

One of the highest dams in the world, located on the Bhagirathi River, offering a breathtaking view of the lake and surrounding mountains.

Kodia Jungle: A dense forest area that is ideal for trekking and camping.
Dhanaulti: A nearby town known for its beautiful apple orchards and adventure activities like rappelling, rock climbing, and camping.
New Tehri: A modern town located near the Tehri Dam, offering water sports activities like boating, jet skiing, and banana boat rides.
Apart from these attractions, Kanatal is also known for its serene environment, beautiful sunsets, and numerous trekking trails. It is a great place to relax, unwind, and connect with nature.
Kaudia Forest: A dense forest area with a variety of flora and fauna, ideal for nature walks and bird watching.
Chamba: A picturesque hill station located about 30 km from Kanatal, known for its ancient temples and scenic views of the Himalayas.
Kanatal Adventure Camp: A popular camping site offering adventure activities like rock climbing, rappelling, and trekking.
Eco Park: A beautiful park with a variety of plants and flowers, ideal for picnics and leisurely walks.
Camping in Kanatal: Kanatal is a popular camping destination with several camping sites offering facilities like bonfires, barbecues, and tents.
Yoga and Meditation: You know Kanatal for its tranquil environment and is a great place to practice yoga and meditation.
Local Cuisine: Everyone knows Kanatal for its delicious local cuisine, which includes dishes like Aloo ke Gutke, Kumaoni Raita, and Bal Mithai.
Director Digital & Social Media Marketing | Affiliate Marketing | Media Buying | Trainer / Visiting Faculty Digital Marketing. Having 14+ Years of Experience in Digital Marketing. It was my hard work and effort that I was bestowed with "India's Top 100 Digital Marketing Leadership Award" and "Indian Achiever's Award" 2022