Hum Croatia: A Tiny Town With a Big History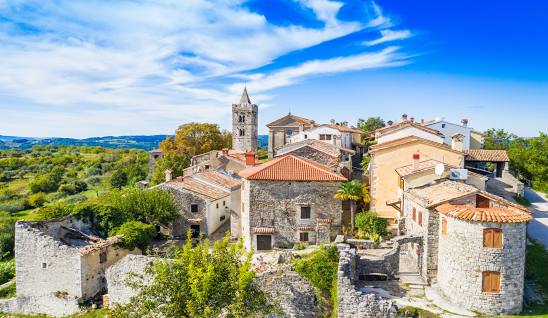 Hum, Croatia is a tiny town located in the central part of Istria. A peninsula in the northwestern part of Croatia. With a population of only about 20 people, Hum is often cited as the smallest town in the world. Despite its small size, Hum has a rich history and a charming atmosphere that draws visitors from around the world.
Hum was founded in the 11th century by a group of people who were fleeing from a nearby town that was under attack. They built a new settlement on a hilltop. Overlooking the surrounding countryside, and Hum quickly grew into a prosperous town thanks to its strategic location and fertile land.
Today, Hum is best known for its charming old town. Which is made up of narrow cobblestone streets, medieval buildings, and ancient walls. Visitors can explore the town's winding alleys. They can visit the 17th-century parish church of the Assumption of Mary, and admire the town's well-preserved fortifications.
One of the most interesting sights in Hum is the Glagolitic Alley, a series of stone sculptures that line the road leading into town. Each sculpture features a letter from the Glagolitic alphabet, an ancient script that was used in the region during the Middle Ages. The sculptures were created by local artists in the 1970s to celebrate the town's rich cultural heritage.
Popular attraction Hum Croatia
Another popular attraction in Hum is the town's annual election of the "Custodian of Hum." This tradition dates back to the Middle Ages, when Hum was a self-governing town with its own elected officials. Today, the "Custodian of Hum" is a symbolic title that is awarded to a local resident each year in a ceremony that takes place on the Day of Hum, which is celebrated on the Saturday closest to August 12th. The "Custodian of Hum" is responsible for upholding the town's traditions and values, and is seen as a guardian of the town's cultural heritage.
Despite its small size, Hum is a popular destination for tourists. Those who are looking to experience the beauty and charm of Istria. Visitors can enjoy the town's rustic atmosphere, sample local wines and olive oils. And also explore the surrounding countryside, which is dotted with vineyards, olive groves, and ancient ruins.
Conclusion
In conclusion, Hum, Croatia may be tiny, but it is rich in history, culture, and natural beauty. Its charming old town, ancient fortifications, and unique traditions make it a must-see destination for anyone who is traveling to Istria. Whether you're interested in history, culture, or just want to experience the laid-back atmosphere of a small Croatian town, Hum is a place you won't want to miss.
Director Digital & Social Media Marketing | Affiliate Marketing | Media Buying | Trainer / Visiting Faculty Digital Marketing. Having 14+ Years of Experience in Digital Marketing. It was my hard work and effort that I was bestowed with "India's Top 100 Digital Marketing Leadership Award" and "Indian Achiever's Award" 2022