Site Search (Site:rohitashok.com)
When you enter this short on google.com, you can find relevant pages and links inside your website. This shortcut also helps us to understand how many pages are indexed with a google search engine.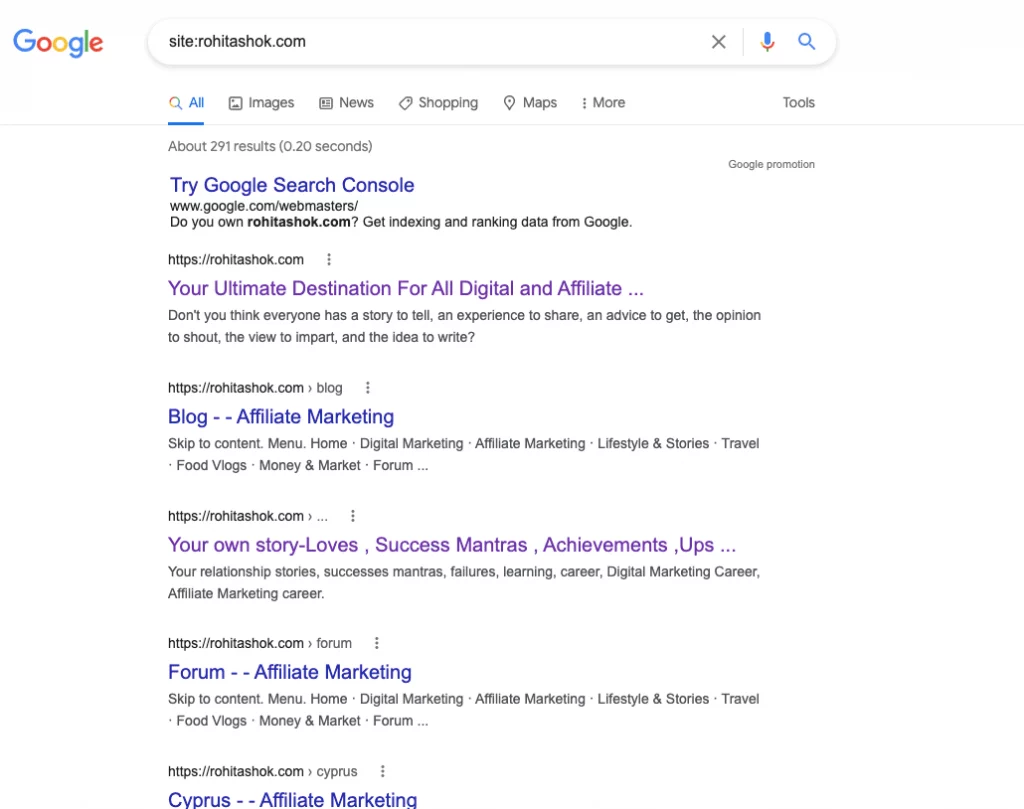 Let us see the complete list of working Google advanced search tricks: – Google Search Shortcut
"search term" When you type this you will get the exact match terms. Ex "digital marketing online", you can also search terms specific to a website like site:rohitashok.com "digital marketing"
site: this provides results to specific websites.
related: It shows results to another website.
intitle: Appear results related to specific keywords in the title and inside the website.
allintitle: Provide results to all of the specific words in the page title.
inurl: Gives results of specific words present in different URLs.
allinurl: Shows results in All of the URLs for specific words.
intext: It helps in finding pages containing a specific word in the content.
allintext: Finds results containing all of the specific words somewhere on the page.
OR – This term helps us find more terms, it can be two or more.
AND this term will provide only 2 results.
– this will find us excluded terms or phrase match.
* This term acts as a wildcard. This will give a match result of any word or phrase.
( ) Groups multiple terms or operators to control how the search is shown.
$ when you use this symbol it searches for price.
define: this operator helps us show only results related to the meaning of the keyword used. eg define:road
Cache: shows results to the most recent cached page.
filetype: provide results to the different file formats (PDF, DOCX, TXT, PPT, etc.)
This is all about Google Search Shortcut. You can read a blog about file converters and where to compress images below.
Director Digital & Social Media Marketing | Affiliate Marketing | Media Buying | Trainer / Visiting Faculty Digital Marketing. Having 14+ Years of Experience in Digital Marketing. It was my hard work and effort that I was bestowed with "India's Top 100 Digital Marketing Leadership Award" and "Indian Achiever's Award" 2022